The main objectives of Technological Development Zones (TDZs), aka Technoparks, in Turkey are to produce and commercialize technological knowhow, to develop innovations in products and production methods and to create investment opportunities in high-tech industries. These zones are usually located in or around college campuses in order to boost academy-industry cooperation. Istanbul has 7 TDZs, which are Ari Teknokent of Istanbul Technical University, Yildiz Teknopark of Yildiz Technical University, Istanbul Teknokent of Istanbul University, Bosphorus Teknopark of Bosphorus University, Teknopark Istanbul of Istanbul Commerce University, Istanbul Finans Teknopark of Boğaziçi University and Marmara Teknopark of Marmara University.
Why to launch your business in TDZs?
Revenues from R&D and software activities of R&D companies are exempt from corporate tax and income tax
Wages of researchers, software developers and R&D personnel working in the zone related to R&D projects are exempt from income taxes
50% discount on Social Security Premium of Employees
Sales of application software produced in TDZs are exempt from VAT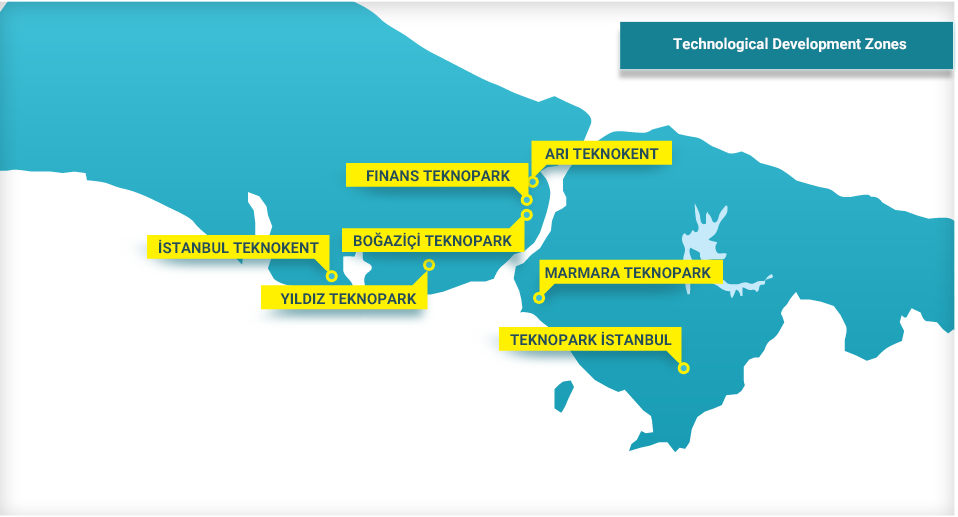 Industrial infrastructure is at the top of Turkey's economic development agenda. Turkish Government has taken a promoting and organizing role in industrialization instead of making industrial investments directly; and undertook investments in infrastructure and put great emphasis on energy, transportation and communication. In this context, Organized Industrial Zones (OIZs) are designed in a way that allow companies which provide goods and services to operate within approved boundaries with the necessary infrastructure, technoparks and social facilities. Basic objectives of OIZs are to allow more rational production for industrial firms that complement each other and encourage others' production, working together under a certain program aligned with environmental regulations, to enable the relations among industries to grow easily and to establish a sound, inexpensive and reliable infrastructure and common social facilities.
There are 2 OIZs in the European Side of Istanbul, which are Beylikdüzü OIZ and İkitelli OIZ; 6 OIZs in the Asian Side, which are Dudullu OIZ, Tuzla OIZ, Birlik OIZ, Leather OIZ, Anatolian Side OIZ and Tuzla Chemical Industrialists OIZ.
Why to launch your business in OIZs?
VAT exemption for land acquisitions
Exemption from real estate duty for 5 years starting after the construction of the plant
Exemption from municipality tax for construction and usage of plant
Lower costs on utilities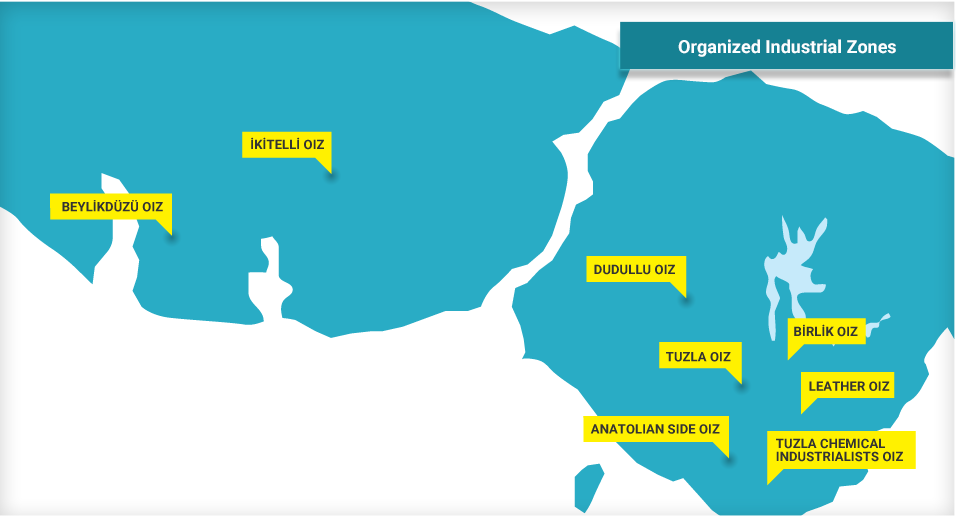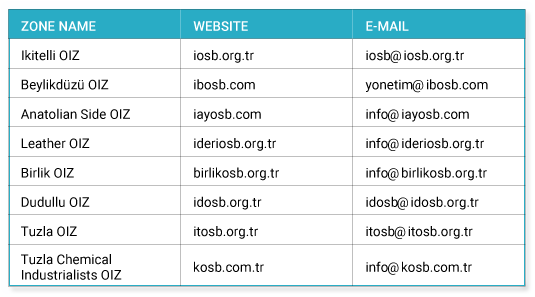 Turkish Free Trade Zones (FTZs) are the areas specified by the Council of Ministers of Turkey within the political borders of Turkey but considered outside the customs borders, where all types of industrial, commercial and certain types of service activities are encouraged through certain tax exemptions and incentives. The objectives of FTZs are to increase export-oriented investment and production, to accelerate the inflow of foreign capital and technology, to procure the inputs of the economy in an economic and orderly fashion, and to increase the utilization of external finance and trade possibilities. There are 3 FTZs in Istanbul; 2 in European Side (Thrace FTZ and Ataturk Airport FTZ) and 1 in Asian Side (Industry & Trade FTZ).
Profit/capital transfer option without any tax to 3rd parties & countries
Exemption from customs duties & other related duties
Exemption from corporate income tax for manufacturing companies
Exemption from income tax on employees' salaries
Exemption from VAT and special consumption tax
Goods can remain in free zones for an unlimited period