Your Gateway to Global Business
At a Glance

Turkey's Shining Star on the Rise
As a home to many civilizations for a thousand years, Istanbul has taken the stage again as an international trade and business center with its diverse, dynamic and fast growing economy offering many lucrative opportunities for the multinational's.

Istanbul's Economy Alone is larger than approximately 130 Countries
As the Turkish economy grows with historic records, Istanbul acts as the engine of growth, having US$31 k GDP per capita income to which corresponds more than two times of countries' average. Compared to the 2001 level, GDP per capita in Istanbul has increased more than fivefold. The foreign trade volume is US$216 billion, where 75 k companies are dealing with international trade in Istanbul.
9th

Major European City regarding Business Friendliness

---

FDI Magazine

 
2018

US$449 billionGDP



---


Brookings Institution

2015

US$31k GDP Per Capita



---


Brookings Institution

2015
Istanbul's
Economy is
Larger Than Approx.

---


130 Countries

US$216 billion
International
Trade Volume


---


Turkstat

2017

75k
companies Dealing with
International Trade

---

Turkstat

2017
Ranks World's First in terms of Accessibility
Hosting two international airports (Atatürk Airport on the European side and Sabiha Gökçen Airport on the Asian side), and constructing the third international airport, Istanbul is reachable by most of the major international airlines and charters. The city is from 2 to 5 hours from European destinations and 9 hours from North America. According to the report of Airports Council International 2017 rankings, Istanbul Ataturk Airport ranks the 15th busiest international airport in the world, leaving Denver Airport, Singapore Airport and John F. Kennedy Airport behind.
Turkish Airlines has picked up four awards this year; "Best Airline in Southern Europe", "Best Business Class Onboard Catering", "World's Best Business Class Lounge", and "Best Business Class Dining Lounge" in the 2017 World Airline Awards. Moreover, Turkish Airlines is the #1 in the World flying to the most countries worldwide with 301 destinations in 121 countries.
As the turn around the port for many cruise ships, Istanbul is mostly reached from the Aegean Sea. Besides, Karaköy Sea Port is also used as a stopping point for a number of international ferries. The Bosphorus is an important passageway for international cargo ships and tankers, and a crucial stopping place for Mediterranean cruises.
Istanbul has two railway stations: Haydarpaşa on the Asian side and Sirkeci on the European side. The city can be reached from Belgrade (via Balkan Express), Bucharest (via Bosphorus Express), Budapest (via TransBalkan Express), Kishinev (via Prietenia Express), and Munich (via Istanbul Express).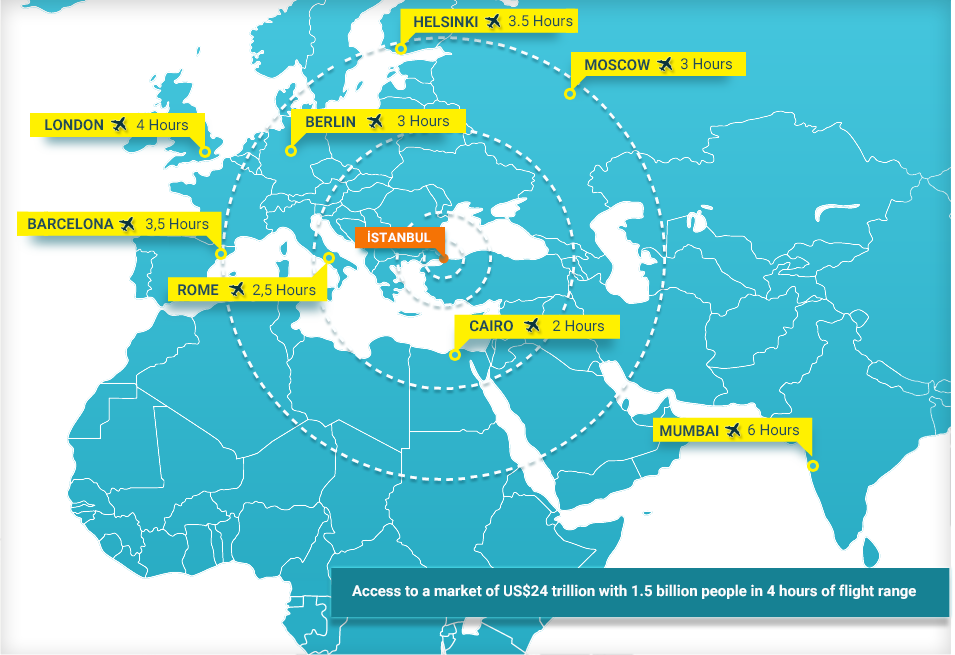 Skilled and Dynamic Labor Force Shall Make You Globally Competitive
Along with its huge potential in human resources, Istanbul is a city where you can achieve your business goals with utmost accuracy.


Median Age: 31

The Youngest among Top European Cities

1,354 Vocational and Technical Schools

Measuring, Selection and Placement Center - 2018


61 universities

Council of Higher Education - 2018

890k Higher Education Students

Council of Higher Education - 2017

31k ProfessorsCouncil of Higher Education - 2017
Mega Infrastructure Projects Render Daily Life Easier
Istanbul has gone through an outstanding transformation and made extraordinary headway in many fields with the help of its mega infrastructure projects. These giant projects represent the culmination of the substantial leap taken in the last decade towards a well-developed and prosperous city that seeks to compete at the global stage.
Eurasia Tunnel
The Eurasia Tunnel Project (Istanbul Strait Road Crossing Project), whose foundations were cast in 2011, connect the Asian and European sides via a highway tunnel going underneath the seabed. The Tunnel, which is valued at approx.US$1.5 billion, serves the Kazlıçeşme-Göztepe route where vehicle traffic is most intense in Istanbul and will cover a total of 14.6 kilometers. Tunnel pass and road improvement-expansion work cause holistic relief on vehicle traffic. Not only the travel duration on the route with its highly intensive Istanbul traffic declines from 100 minutes to 15 minutes but also the privilege of safe and comfortable travel is experienced. It also contributes to the reduction of environmental and noise pollution in the city.

Istanbul New Airport
Istanbul New Airport, which consists of a total of 6 runways, 16 taxiways, 4 terminals connected with a railway system, 181 aircraft passenger bridges at all terminals, 6.5 million m2 apron with 271 aircraft parking capacity, 3 maintenance buildings, 8 air traffic control towers, a car park with a capacity of about 70,000 vehicles, a clinic, a fire department, hotels, a convention center, and recycling and waste disposal plants, is now being constructed at the Istanbul's Northwestern side, on an area of 7,659 hectares. Following the finalization of the project, it will provide a capacity of 150 million passengers; the world's largest in terms of the passenger volume. The airport, which is planned to add 100,000 more jobs to the market, is expected to be completed this year and shall be the largest airport in Europe.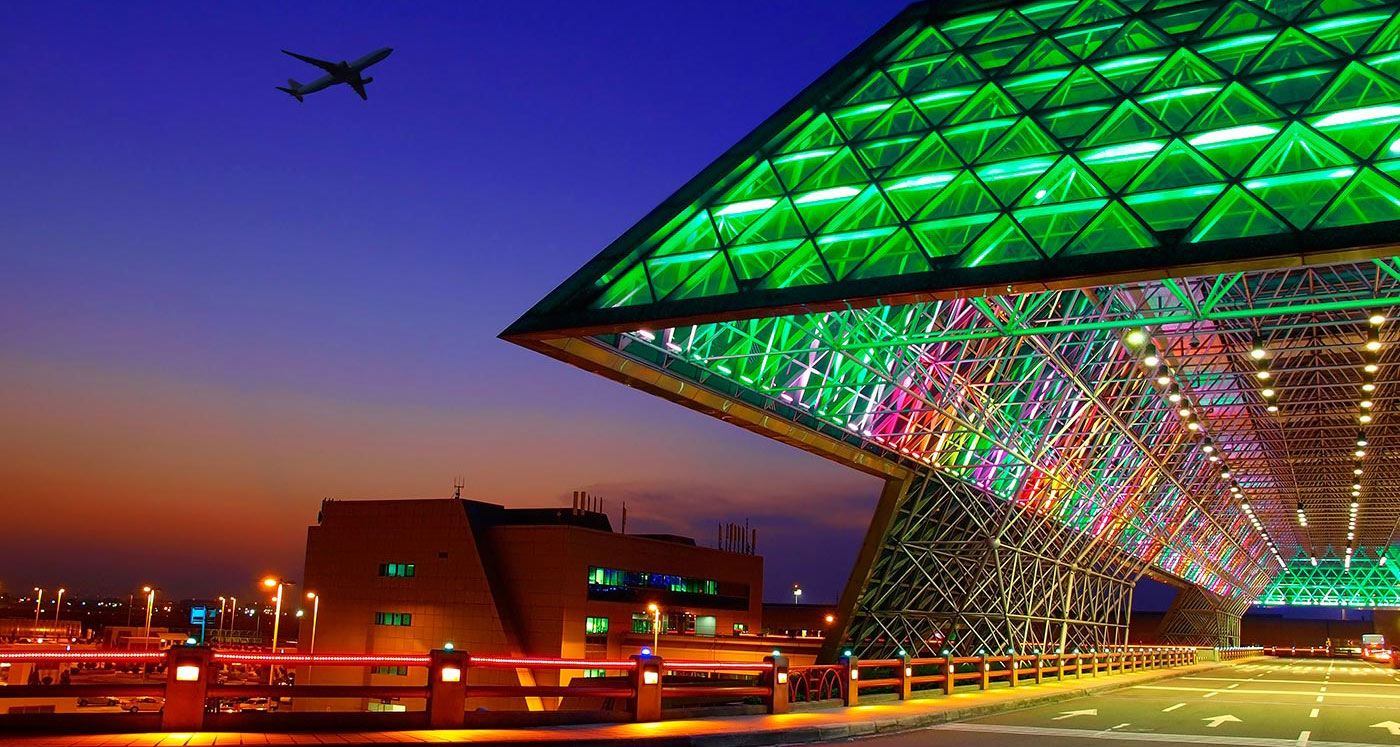 Yavuz Sultan Selim Bridge
Yavuz Sultan Selim Bridge is a suspension bridge under construction located at the northern end of the Bosphorus, north of the other two bridges, in Istanbul. The bridge is part of the projected 260 km long "Northern Marmara Motorway", which will bypass urban areas of Istanbul in the north connecting Silivri district in the west and Hendek area in the east. When completed in 2015, Yavuz Sultan Selim Bridge, whose budgeted cost of construction is approx. US$2.5 billion, will be the longest combined motorway/railway bridge of the world and the world's 9th longest suspension bridge.

Istanbul Sea Tunnel Mega Project
A three-level sub-sea tunnel project has been approved by the Istanbul Metropolitan Municipality and was announced in 2015. The estimated US$3.5 billion mega-project, with a three-level, sub-sea tunnel under Istanbul's Bosphorus Strait which will connect the city's two sides with one railway and two highways, is expected to cut travel times to 14 minutes. Bosphorus Bridge, Fatih Sultan Mehmet Bridge, and Yavuz Sultan Selim Bridge will be connected to each other once the tunnel is completed. The three-level tunnel is an environmentally-friendly project. According to calculations, oil consumption will decrease by roughly 54 million liters due to the project and carbon emissions will decrease by 175 tons per year. The project will not damage the city's silhouette either.

Business Friendly Cost of Living Awaits You in Istanbul
Mercer's Cost of Living Survey, one of the world's most comprehensive, is designed to help multinational companies and governments determine compensation allowances for their expatriate employees. The survey covers 209 cities across five continents and measures the comparative cost of more than 200 items in each location, including housing, transportation, food, clothing, household goods, and entertainment. Governments and Major companies use data from this survey to protect the purchasing power of their employees when transferred abroad and to assess local expatriate housing allowances. Istanbul is ranked 142nd city in the cost of living survey (Mercer 2017), which means a low-cost urban life awaits you at the crossroads of Europe and Asia.

Entrepreneurship and Investment Environment Conducive to Innovation
Strategically located between key markets in Europe, the Middle East, Russia and Central Asia, the entrepreneurial ecosystem in the city is dynamic, high potential and fast growing, thanks to its young, educated, and risk-taking workforce as well as amply incentive schemes.
3,795 Patent Applications

%44 of Turkey's Total 
(Turkish Patent Institute - 2017)

Entrepreneurial and Innovative University Index: 14 Universities from Istanbul among Top 50

(The Scientific and Technological Research Council of Turkey - 2017)

11 Technological Development Zones

Labor Force: 6.6 million

(Turkstat - 2017)

8 Reasons to Invest in Istanbul
1. Rapidly growing domestic market
2. Mature and dynamic private sector
3. Leading role in the region
4. Liberal, secure & incentivized investment environment
5. Supply of high quality and cost-effective labor force
6. Institutionalized economy and customs union with EU countries
7. Developed infrastructure
8. Competitive tax system
403,040 Companies Registered in Istanbul Chamber of Commerce

---

Istanbul Chamber of Commerce (April - 2018)

45,204 Companies
Newly Founded

---

Union of Chambers and Commodity Exchanges of Turkey (2017)

Housing Sector Comes #1 with 34,933 Companies

---

Istanbul Chamber of Commerce
(April - 2018)
36,653 Companies with Foreign Partners 
(61% of Turkey)

---

Ministry of Economy
(February - 2018)
US$16 billion
Budget of incentivized investments since 2015
1,523
# of Incentive-Certificates issued in Istanbul
79k Jobs
created through incentivized investments since 2015

Source: Ministry of Industry and Technology - 2018
Global, Livable and Safe City

A city's quality of living standards is certainly an important element for employers & employees to consider. Istanbul converts itself into a vibrant and limitless city with its countless opportunities and cultural background. The art and culture are so rich in the city that it offers ample choices for social activities.



# of Movie Theaters: 882

(Turkstat 2017)

# of Movies Released: 16,096

(Turkstat 2015)

# of Theater Stages: 227

(Turkstat 2017)

# of Turkish Shows Performed on Stage: 8,299

(Turkstat 2015)

# of International Shows Performed on Stage: 2,841

(Turkstat 2015)
Istanbul enjoys being among the safest cities in the World. The Safe Cities report released by the Economist Intelligence Unit is based on an index composed of more than 40 quantitative and qualitative indicators. These indicators are split into four thematic categories: digital security; health security; infrastructure safety; and personal safety. Istanbul becomes world's 41st safest city (The Economist-2015), surpassing Moscow, Johannesburg, and Mumbai.
Another Index is released about Crime rates of the cities by Numbeo. Crime Index is an estimation of the overall level of crime in a given city or a country. Numbeo, which is the world's largest database of user contributed data about cities and countries worldwide, concludes that Istanbul with a ranking of 109th is among the safest global cities ahead of Rome, Washington, DC, Paris, and Dublin in the classification of Crime Index. (Numbeo-Crime Index 2018)